TechMarketers Q&A with Shallu Behar-Sheehan of data experts Truata
Shallu Behar-Sheehan, CMO at Dublin headquartered Truata takes the TechMarketers Q&A
Shallu Behar-Sheehan, CMO at Truata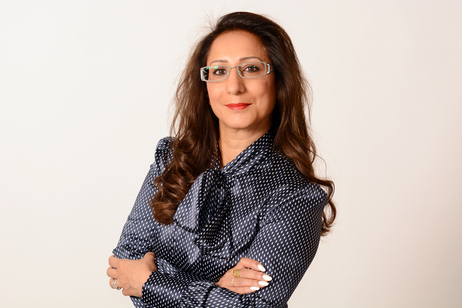 Describe your company and the products you are marketing.
Truata was founded by Mastercard and IBM to deliver privacy-enhanced data analytics and data management solutions. Key to this is the principle of placing customer trust, and transparency at the centre when unlocking business value from data.
Are you the most senior marketing person and what is your reporting line?
Yes. I am the CMO and report into the President & General Counsel.
How did you enter into a marketing career?
I literally stumbled into marketing. I was early in career and working for a tech firm and the MD had placed a few of us on an onboarding experience. This involved spending one month in each function from purchasing, despatch, training, sales and HR. I asked why we didn't have a marketing function and before I knew it - I was it. I remember looking up the definition of marketing - and that was my entry point.
And how did you enter the technology sector?
I studied Computer Science at O-level, as I was interested in programming and for the examination, I submitted a project that enabled users to order clothes online. My tutor at the time suggested I approach one of the catalogue companies to share the idea with them. I never did! That spurred my continued interest in computers, technology and IT. To this day, I love the pace of change and the impact this sector is driving.
Which marketing technology or tools do you rely on?
This is where the science of marketing kicks in. There's never been a better time to be in marketing with the abundance of tools in the Digital MarTech Stack. I have relied on Trello (collaboration), SFDC and LeanData (customer data), Marketo (automation), Hootsuite, Slideshare, LinkedIn, Twitter, Spredfast (social media management and platforms), LinkedIn Sales Navigator (social selling), Tableau (reporting) and Allocadia (budgeting).
Which new wave technologies do you think will transform marketing?
Computer vision and its ability to understand the attributes of images and video that drive engagement and value. This will continue to shape the landscape for marketers that play at the cutting edge. The constant evolution of machine learning/deep learning that drives optimisation of different experiences - we see this in the experience platforms and personalisation platforms. With the advent of deeper analytics and insights comes the responsibility for brands to illustrate to consumers that trust, and transparency, are at the centre of every conversation.
What is the most frustrating element of working in marketing?
The percentage of total revenue allocated to marketing.
What would you like to see improve in technology marketing?
Marketers taking the lead role in planning, strategising and guiding the responsible use of data within their organisation and champion the privacy-centric consumer experience. Given they are now on the frontline, CMOs need to instigate collaboration with CIOs and CDOs, to ensure privacy considerations are deeply embedded into business strategies to ensure all are aligned in consumer trust and delivering a model that puts privacy first.
Is there an over reliance on KPIs in technology marketing?
The emergence of predictive and prescriptive indicators will inspire new next-generation digital dashboards, not just rear-view mirror KPIs.
Do you think that the marketing landscape is changing and if so, how are you transforming the way marketing operates in your organisation?
Data privacy is both a trend in regulation, and a growing consumer demand. As such, it is one of the most important global themes for marketers in 2020 and a key driver for the changing marketing landscape.
This situation can give marketers sleepless nights: their effectiveness is increasingly reliant on high volumes of accurate data for deep analytics and listening, but they can't get good data without consumers' trust. While brands need data to understand more about their consumers, ensuring privacy and transparency are key considerations when building consumer loyalty. Marketers can't build lasting, reciprocal relationships with consumers (and consequently, can't build meaningful predictive datasets) without that loyalty and trust.
How much time a week would you say you spend on future planning/experimenting or research?
Up to 75% of my time - I usually block out thinking time in my diary so that I have the chance to review, digest and plan.
How many people in your marketing team?
We are all marketers - that's the attraction of an ambitious start-up.
What is the most important element of creating a great marketing team?
Diversity. Build a team that thinks differently, bring a unique perspective and have the confidence to challenge the status quo.
What is your marketing budget?
~ 3% of total revenue.
How do you divide your time between leading as a manager and carrying out actual marketing?
Leadership kicks in when it comes to setting the vision, strategy, execution and measurement. Ensuring the team is clear on OKRs (Objective Key Results) enables everyone to have a clear understanding of what success looks like.
I have a collaborative approach which enables me to embed within the dynamics of the team and get a better sense of how the team are feeling, performing and reacting to internal and external influences.
Having fun is a key mantra as this influence's behaviour, increases the appetite to take risks, adopt and adapt to change and foster deeper connections with other functions within the team.
I learnt to deeply listen as part of my role as a mentor to a refugee and this experience provided me with a richer insight to be a better coach, mentor and leader.
How do you seek inspiration?
I look for inspiration everywhere. From books I consume, to meditative thinking, to just being able to switch off and enjoy the moment.
Which company and its marketing do you find inspiring?
TED
The ability to connect a global community, embracing people from every discipline and culture must be one of the most powerful social purpose initiatives of the modern day.
How do you relax?
I've been knitting since my early years at boarding school. I find knitting therapeutic and it is scientifically proven to be as relaxing as yoga, brings down blood pressure and keeps the mind sharp. Knitting lowers the heart rate by an average of 11 beats per minute and induces 'an enhanced state of calm' and even the same 'flow' experienced by athletes when they are in the 'zone' which causes a drop in stress hormones and blood pressure.
Advertisment