Janine Pelosi, Zoom CMO Q&A
Which company do you work for?
Zoom Video Communications, Inc.
What is your role?
Chief Marketing Officer
Where are you based?
San Jose, California
Where were you born and raised and where do you live now?
Born and raised in San Jose, and I now live in the Morgan Hill area, just south of San Jose.
How did you enter the technology sector?
I started as an intern on Webex's marketing team when I was in college.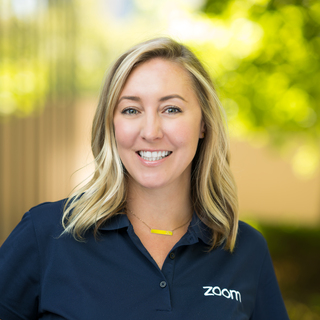 What aspect of marketing doesn't get enough attention?
We get a lot of attention for the things our colleagues can see - the billboards, the airport signage, the lead flow. But there is an entire strategy and infrastructure built out to support these visible activities. I encourage my teams that don't get as much attention for their important work, such as web and digital marketing, to evangelise their successes.
What would you say is your greatest strength?
I really care. I'm going to put in the work and I'm going to step outside of my day-to-day purview of marketing if I see something that needs fixing. I'm also good at thinking a little differently and thinking big picture - I don't get myopic or locked into one way of thinking or doing something just because that's the way others do it or the way we've done it historically.
What would you say is your biggest weakness?
Decisiveness is a two-sided coin. I have to be decisive to be effective in my role, but that invariably means that I won't always be right. I try to go for directionally right, that allows me to be fast and more or less on target.
Which marketing technology or other tools do you rely on in your job?
I don't think in terms of marketing technology as much as general business technology that allows me to keep a pulse on our marketing effectiveness. I live on Zoom chat, and to a lesser degree, email. I also rely on Domo for a pulse check on our programs.
Which words or phrases do you use or overuse?
Up-level and directionally correct (no surprise, as I said, I'm a big picture thinker and I move fast!)
Are there words and phrases you hear used too much?
Marketing qualified leads versus sales qualified leads. These should not have a different definition, or be different - there should just be qualified leads. Words matter, and quantifying a lead in those terms creates a subconscious divide. Sales and marketing alignment is paramount.
Is it hard to balance work and your personal life?
Yes, of course. You're never going to have a perfect balance. What I try to do is just be present. If I'm at work, I'm in work mode. If I'm with my daughter, I put down my phone, I get on the floor, and I play Barbies.
What is the most frustrating aspect of working in marketing in the tech sector?
We have access to so much data now, there is an expectation that we should just snap our fingers have a 360 degree view of our prospects and customers. In reality, that is really hard to do.
What do you think CMOs do badly and need to improve on?
CMOs need to think holistically about the overall business. You can't just think about your marketing programs first, you have to do what is best for the company first and align your programs to the company's priorities.
Is there an over-reliance on metrics and KPIs in the job today?
I don't see an over-reliance on this. Yes, sometimes you have to go with your gut: does this feel right? Does this feel fresh and exciting? But marketing has a major impact on a company, so you have to base your decisions on metrics, you have to hold yourself to rigorous KPIs, or you're doing your company a disservice.
What do you think of Gartner's notion that CMOs and CDOs are often outspending CIOs on IT?
The marketing stack gets more complex over time, and that is costly, but we're definitely not close to outspending IT. Also, many of our most-used platforms - Salesforce, collaboration tools - are interdepartmental.
What is the most exciting aspect of the role?
It's so rewarding to see my team do something incredible, something that I couldn't have done or would not have thought of myself. When I walk into the main hall at Zoomtopia, our user conference, or watch a powerful customer testimonial - that keeps me inspired and excited.
How has the job changed in your time?
The role of the CMO has gotten broader, or at least in my world it has. Our team plays a significant role in the culture of the company, in the success of the company. So it's a lot to meet the demands of that role, but it's also deeply rewarding.
And what still needs to change?
Well, on the flip side, marketing can only do so much. Marketing only works if it is tied to authenticity and quality. You can't market your way out of a bad product or a bad company. If people think a CMO can do that, they are mistaken.
On a scale of 1 (very negative) to 10 (very positive) how would you rate the relationship between sales and marketing in the technology sector?
8
On a scale of 1 (very negative) to 10 (very positive) how would you rate the relationship between the CFO and marketing in the technology sector?
8
On a scale of 1 (very negative) to 10 (very positive) how would you rate the relationship between the CEO and marketing in the technology sector?
8
How much time do you spend in your company's offices and where do you work when not there?
We have a very "in the office" team. I'm there almost every day, splitting my time between the marketing and sales areas. I try to do most of my meetings on Zoom and not to travel too much.
Can you break down a typical day, week or month?
I start my day by clearing my inbox - I strive for inbox zero. I spend more of my day than I'd like in meetings, typically at executive/strategic level, but also working with customers and partners. Right now I'm working a lot on Zoomtopia and planning for the second half of our fiscal year.
How do you occupy your time outside work?
I prioritize family time - I spend most of my non-work time with my husband and daughter, we do a lot of weekend trips around California.
On average how many times a year do you travel outside of your own country?
2-3.
Have you had mentors?
Yes. I don't have one mentor, I learn a little bit from all kinds of people, not just marketers.
Are you mentoring other members of your organisation or community?
Yes, I spend a fair amount of time mentoring marketing leads at start ups, typically set up by one of our VCs.
Which companies do you admire for their marketing prowess?
Tesla - it has a strong brand and publicity in lieu of traditional marketing. I mean, Tesla shot a car into space! Okta - it leverages its data in a unique way that generates a lot of attention and thought leadership (Okta Business@Work report). I also admire LinkedIn's high-quality, engaging out-of-home of late.
Name a peer you believe should be recognised?
Ryan Carlson, CMO of Okta
How do you stay in touch with both new ideas and experience?
I'm not one of those executives you'll see at a conference every week, but I do see the value of connecting with my peers from time-to-time, sharing best practices, and learning from their triumphs and challenges.
Why do you think the average tenure of CMOs in the tech sector so short?
I think there are misconceptions about what a CMO should be doing. Someone might be skilled at marketing, but doesn't mean they're ready to be a corporate leader. Also, you need a CEO who values marketing and who trusts you. If you don't have that, you're working with one hand tied behind your back.
What should be the next career steps after the CMO role?
That depends entirely on your interests and appetite - another CMO role, COO, CEO.
Do you have aspirations to the CEO role?
Not right now! I love being Zoom's CMO.
How did you get the job and what were you tasked with doing?
I had worked with Eric (Zoom's CEO) and Greg (Zoom's former head of sales and current head of corporate strategy) at Webex, so I was brought in to build the marketing function from the ground up. My early charter, which still holds, was to build a preference for the Zoom brand, particularly upmarket, and scale the business into new international markets.
What is your favourite book?
The Speed of Trust by Stephen M.R. Covey
What is your favourite song?
Anything by Amos Lee
What is your favourite movie or TV show?
House of Cards
What is your favourite sports and sports team?
Whoever gives Zoom the best visibility :D