TechMarketers CMO Q&A Iris Meijer, Vodafone Business
Which company do you work for?
Vodafone Business.
What is your role?
I am the Chief Marketing Officer at Vodafone Business, where I lead the global marketing, commercial and customer experience strategy, and planning for the organization. In my role, I oversee marketing strategies that promote growth acceleration, help build and cultivate high-performance teams, convert technology into innovative marketing opportunities, and manage key relationships both internally and externally while achieving growth and profitability through customer focus and operational excellence.
Where are you based?
London, England.
Where were you born and raised and where do you live now?
I was born and raised in Finland, started my career in Helsinki, and am now based in London, England.
How did you enter the technology sector?
I entered the tech industry more than 20 years ago, beginning my career in an IT company as a marketing assistant. I've stayed in marketing and communications ever since, and always within the IT and telecommunication sectors.
How did you begin a career in marketing?
I started as a marketing assistant at an IT company in Helsinki but I actually thought I wanted to work in design initially. Out of school, I did a short stint in design, but quickly realized that it wasn't the best fit for me and then quickly landed a summer job at an IT company focused on marketing, where I found my true passion.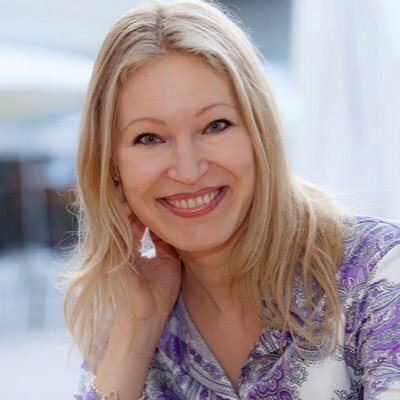 What aspect of marketing doesn't get enough attention?
In my opinion, even though it has started to get attention over the last few years the use of data in marketing still doesn't get the attention it deserves. Data is surely a large part of every marketer's day-to-day role, however, using the data to inform other departments within an organization isn't always properly managed. Marketing departments within organizations have an opportunity to take a bigger role in using data more effectively, not only within our own teams, but also to help others within the business.
In addition, I believe that customer insights are a critical tool for marketers to understand and leverage, and often not used enough. Today, we have so much more access to data that can help us understand our customer's needs and desires in a product or service. When we really listen to our customers, we can ensure that we design better products and services to fit their needs, and in turn create an exceptional brand experience.
What would you say is your greatest strength?
I consider myself a change agent. I ask tough questions to get to the right answers. I'm persistent. I build strong relationships and create trust among my team and those I work with and ultimately ensure there is a clear vision. I also love to roll up my sleeves and get things done, while inspiring those around me to do the same.
What would you say is your biggest weakness?
Speed. I can sometimes work too quickly. I've learned that sometimes it's really important to take a step back and slow down, ensure that I'm not getting ahead of myself or moving so fast that I'm leaving my team behind. While speed is important, I know it is also critical to be aligned with my team for success.
Which marketing technology or other tools do you rely on in your job?
I believe that social media can be a great tool for marketers. Whether it's engaging with my network or reading thought-leadership content on LinkedIn, or following comments on brand posts on Instagram, there are many insights that can be taken from simply engaging and interacting with social networks today.
Another tool we use here at Vodafone is an app we developed called Vodafone Heartbeat. It provides employees instant and direct access to Vodafone customer feedback. I can quickly gather direct customer feedback by simply opening the app. It gives us access to incredible insights and directly impacts how we can improve our products, services and overall customer experience.
Is it hard to balance work and your personal life?
Over the years, I've really made a specific effort to find balance in my life. I make it a point to invest time for myself, my family, my health as I think this makes me a better leader. Earlier in my career, it was easy to be fully dedicated to my work and put all of myself into work. Being dedicated and passionate about work is important, but I've learned that I can't let that passion override the need to slow down and be present with my family or take care of my health.
What is the most frustrating aspect of working in marketing in the tech sector?
The technology industry is filled with super-intelligent people - the brightest minds in the world. However, at the same time, people within the sector are very opinionated so navigating different personalities can be challenging. Another frustrating aspect is the tech jargon. People love to talk about technology and innovation, but the customer is sometimes so far away from our daily talk. Many in our world forget to translate for the customer. That is why the rebranding effort I ran for Vodafone Business doubled down on putting our customer's outcomes first.
Is there an over-reliance on metrics and KPIs in the job today?
I don't believe there is. Most B2B organizations rely on metrics and KPIs and I believe it is very important. We're moving away from a world where you can't measure marketing. That being said, you should never measure just for the sake of it. The right metrics will drive the right decisions.
What is the most exciting aspect of the role?
Being a part of how technology is changing the world for the better. It's amazing to see what new technology can do to help people live a better life. There are so many examples of how Vodafone is helping people every day - from people connecting schools in Africa to helping support domestic violence victims in the UK, and so much more.
How has the job changed in your time?
CMO roles have changed dramatically in my career. In my opinion, it is much more commercial now than it was years ago. It's the data that is changing the CMO's role. We now have the ability to use an abundance of data to support entire organizations and help inform decisions outside of our own department. CMOs also now act as the "custodian" of customers. We help other parts of organizations, from product design to operations, understand the customer better.
And what still needs to change?
I believe the use of data still needs to change. With this influx of data comes responsibility. A CMO still needs to advocate trust and transparency when using data. Additionally, CMOs need to be the voice of the customer and use that voice and insight to educate other business units.
On a scale of 1 (very negative) to 10 (very positive) how would you rate the relationship between the CEO and marketing in the technology sector?
I think the rating can really vary but is positive for the most part! My experience has been that marketing has a strategic voice at the leadership table and can drive real change together with the CEO. However, I have also seen how marketing can also be seen as a support function. At Vodafone, marketing is an enabling function. It is amazing how one word can change the perspective and the relationship.
How do you occupy your time outside work?
I love to exercise and be outdoors. A hobby of mine is reformer (known also as torture machine) pilates. If I can start my day with a pilates class I know it's going to be a good day.
Name a peer you believe should be recognised?
I would love to recognize Michelle Peluso, SVP and Chief Marketing Officer at IBM. Over the past year we have worked closely together to bring forward a strategic venture between our two companies and I've gotten to know her very well. We are very much aligned in our data-driven marketing strategies and I admire her leadership.
What is your favourite sport and sports team?
True to my roots, I follow the Finnish Formula 1 drivers. I am very happy to see the industry evolving though and the increased support Formula E has nowadays.